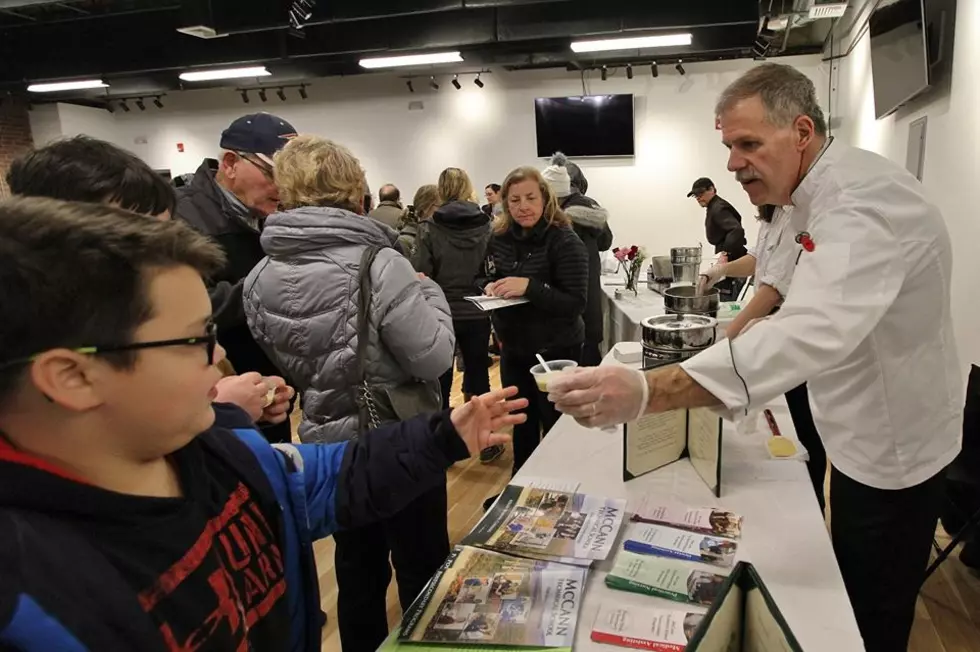 Nicholas Mantello(c)
Saturday turned out to be a great day for North Adams' 22nd annual Winterfest. Judging by the size of the crowd a lot of people agreed. A lot of fun was had up, down and around Main street, but I'll cut to the chase for my taste: the Chowder Cook-off at The Green, where nine entrants were very busy serving up their best creations to the crowd in anticipation of being voted the favorite.
After duly considering the fine points of each, I decided to give my first-place nod to McCann Tech Culinary Program's corn chowder. Judging by the final tally a lot of people agreed, as Pat Cariddi's charges won the People's Choice vote. (That's Mr.Cariddi serving a cup of the award winner in our picture). To be honest, I couldn't pick a 2nd or 3rd place soup, they were all so tasty. For the record, Ramuntos came in a close second while the Hub finished third.
While the competitors were known during the public tasting, there was a blind tasting beforehand by a panel of judges. The Judges Choice first place award went to Ramunto's for its corn chowder with McCann in second and The Hub once again in third.
There was also an "Only in North Adams" award for the most unique recipe and for the second year in a row Ramunto's won that popular vote. My vote went to 180 Polish Roadside Grill for their "zurek", a polish soup that featured chunks of kielbasa.
My personal thanks to all the efforts of Berkshire Food Project, Berkshire Palate, Freight Yard Pub, Gramercy Bistro, Gala Restaurant at the Orchards, the Hub, McCann Tech, 180 Polish Roadside Grill and Ramunto's for the best free lunch in the Berkshires!