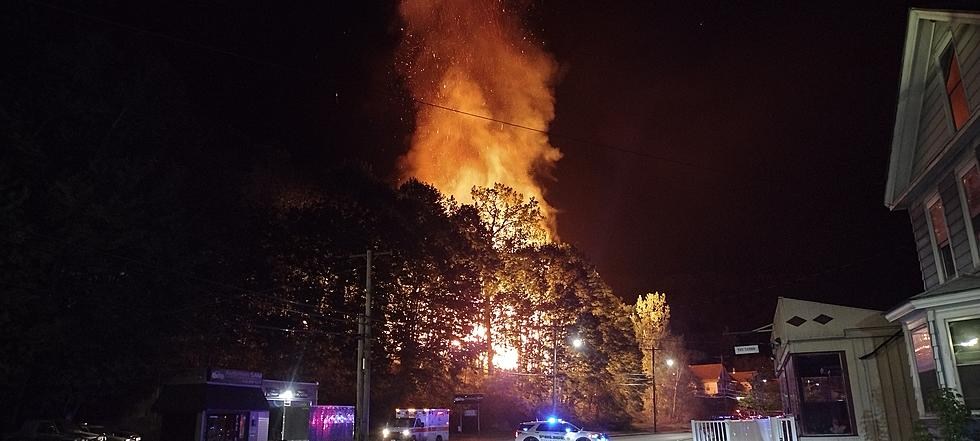 UPDATE: Massive Structure Fire In Northern Berkshire County
Ryan Pause
Red sky and smoke bellowed over North Adams Wednesday night just before 11:00 p.m. as firefighters and crew responded to 28 Morgan Ave. which has been condemned since June only to find that the four-story unoccupied structure was fully engulfed in flames.
iberkshires.com reports firefighters were able to keep the fire under control from spreading into the wooded area while both Adams and Clarksburg were involved for mutual aid in the process. Nearby neighbors were safely evacuated, and state street was closed for a period of time as nearby fire hydrated were needed.
The massive blaze was thankfully under control by 12:30 a.m. thanks to amazing the jobs by the fire crew. Residents were allowed back in their homes once electricity was restored.
The 48-room building, built in 1880 and is owned by Brandon Navom in North Adams. We can all say it was a blessing disguise that this complex was unoccupied. The cause of the fire remains under investigation.
Again, a big shout-out and prayers to all of those involved especially all the first responders of North Adams, Adams, and Clarksburg. These types of people put their lives on the line every day and night to help those involved in situations like these. Especially coming from someone who experienced a house fire myself (thankfully nowhere near as bad) back in the winter of 2020. Remember, always take any fire risk warnings very seriously when they are issued.
Any more details that should be known about this fire, tap the message button on our app. 
10 Tips To Prevent Wildfires
Smokey The Bear said it best, "only you can prevent wildfires." Well, it's a lot easier said than done, Smokey. Great name for a bear trying to warn us about fire hazards, by the way.
In order to prevent wildfires, you have to first know how they can be prevented. Here are 10 tips provided by the Department Of Interior that will help you in your every day life, so you can enjoy being outside, camping, and having bonfires without it turning into a problem.
Here are their 10 tips, along with some simplified explanations from me.