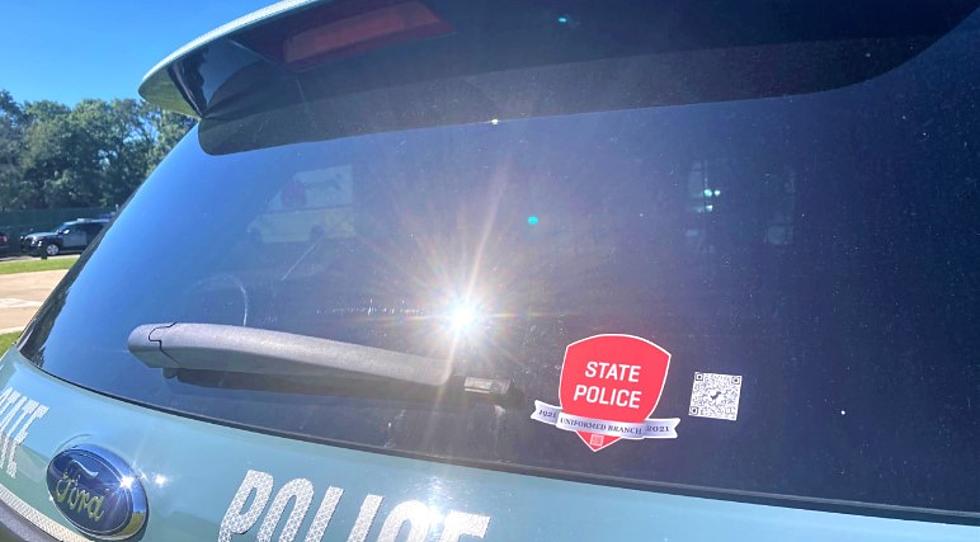 This is What a Red Sticker on a Massachusetts State Trooper Cruiser Means
via Massachusetts State Police
Attention Massachusetts drivers!
If you've been behind or in traffic next to a Massachusetts State Trooper over the past two years, you seen a red acorn-shaped sticker. I saw this on the Massachusetts Turnpike recently and it piqued my curiosity. I wasn't close enough to get a good look so to the internet I went.
What Do the Red Stickers on the Back of Some Massachusetts State Trooper Vehicles Mean?
You might not see them as often as you used to, but the red stickers do represent something very important.
Just a few years ago in 2021, in recognition of the 100th anniversary of the State Police Patrol, cruisers that belong to the uniformed patrol division of the Massachusetts State Police were affixed with a sticker that replicates the first patch worn by those patrolmen. The patch, known as the "red acorn patch" was worn from 1921-1926, on a green blouse coat over a white shirt and red tie, which might look familiar to those familiar with the MSP's iconic French and Electric Blue color scheme.
An article published in The North Adams Transcript on April 25, 1925, reads:
"State Troopers Wear Bright Red Shields. Every member of the state constabulary, which has a sub-station in Cheshire, is now wearing a bright red shield on his right shoulder bearing the title, 'State Police,' in white letters. The shield is somewhat similar to the divisional insignia worn on the shoulders of World War soldiers, and is designed to distinguish the troopers from city and town motorcycle officers whose uniforms are sometimes similar."
You might not see these as often as you could in 2021 as many fleet vehicles have since been retired, but some are still out there. The sticker is another way of celebrating the roots of the Massachusetts State Police.
LOOK: Most dangerous states to drive in