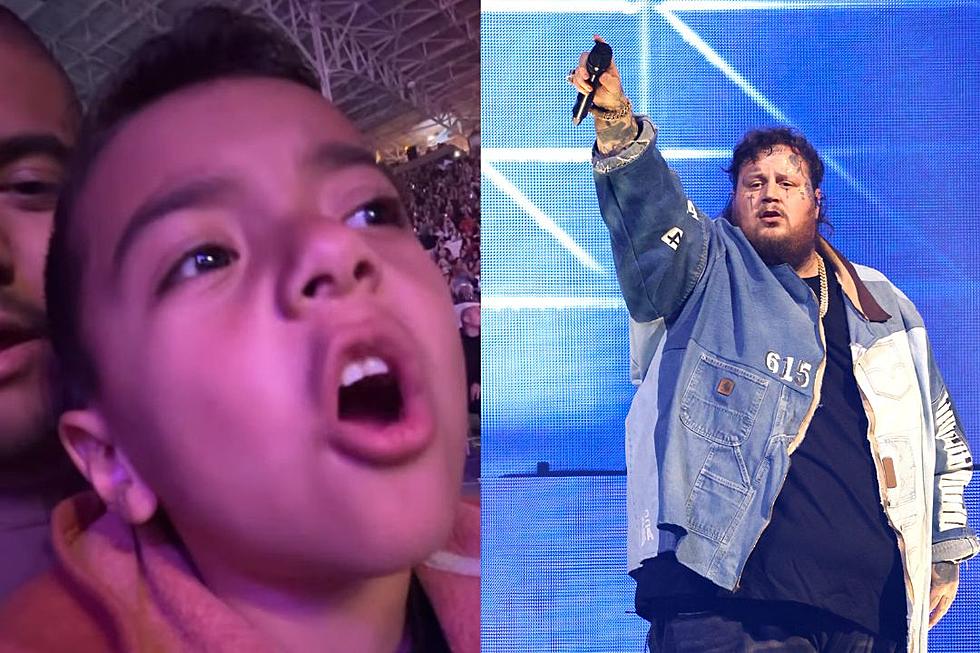 Young Boy Singing 'Save Me' at Jelly Roll Concert Will Make Your Day [Watch]
@fshmislife, Instagram
Jason Kempin, Getty Images
Evan Paul is the host of Taste of Country Nights, a syndicated radio show heard on more than 120 country radio stations nationwide, every night from 7PM to midnight. He plays the best new country music and interviews today's top stars, like Luke Combs, Miranda Lambert, Dan + Shay, Keith Urban, Carrie Underwood, Luke Bryan, Chris Stapleton, Lady A, Morgan Wallen, + more! 
There are artists that are on the come-up, and then there is
Jelly Roll
. Jelly Roll has seemed to skip the whole come-up part, and has gone straight to a force to be reckoned with in country music. His fans come from all walks of life and all age groups.
Nothing proves that more than a viral video of a young boy and his father at a Jelly Roll show. The child's name is Rey, and his father is beyond excited that his son is also a fan of Jelly Roll, just as he is.
In the video, the young boy is belting out the song from Jelly Roll, "Save Me," while you can see his father in the background proudly filming his son.
His father writes, "My baby boy had the time of his life thanks to momma for buying us these concert tickets! I've been so heavy on Jelly Roll so this means so much to me and the fact that our son loves him, that's so dope! Jelly Rolls music has helped me in more ways than anyone can imagine. This night is one to remember! Thank you @jellyroll615 for an amazing performance! Can't wait to have Rey meet you one day!!! Share this and tag @jellyroll615 @xomgitsbunnie so we can make it happen for Rey!"
Jelly Roll himself like the video, and other country artists as well. Naturally, the comment section is a lot of support, and there are a few nay-sayers who are upset at the lyrical content of the actual song that the boy is singing. Some feel that the lyrics to this particular song of Jelly Roll's, "Save Me", are somewhat edgy for a child to be singing:
"I'm a lost cause / Baby, don't waste your time on me / I'm so damaged beyond repair / Life has shattered my hopes and my dreams."
However you choose to look at it, the fact is that this is a bonding moment for a father and a son that will most likely be a core memory for the boy. We are rooting for him to get to one day meet Jelly Roll.
11 Songs that Foreshadowed Jelly Roll's Country Music Career
Jelly Roll has taken the country music world by storm over the past year, and he will release his first full-length country album, Whitsitt Chapel, on June 2. Before he jumps right into the deepend of the genre, let's take a walk down memory lane. There are 11 songs that seemed to foreshadow his country music career.
PICTURES: See Inside the 2022 CRS New Faces of Country Music Show
The 2022 Country Radio Seminar culminated with the CRS New Faces of Country Music show on Feb. 25. Gabby Barrett, Walker Hayes, Parker McCollum, Jameson Rodgers and Lainey Wilson all took the stage in a diverse lineup of the most up-and-coming artists in contemporary country music.
2023 Country Music Festivals Guide
Enjoy an updated list of country music's best festivals, across America, Canada, Great Britain and more. This list of 2023 country fests will be updated to reflect postponements, cancelations or lineup adjustments.