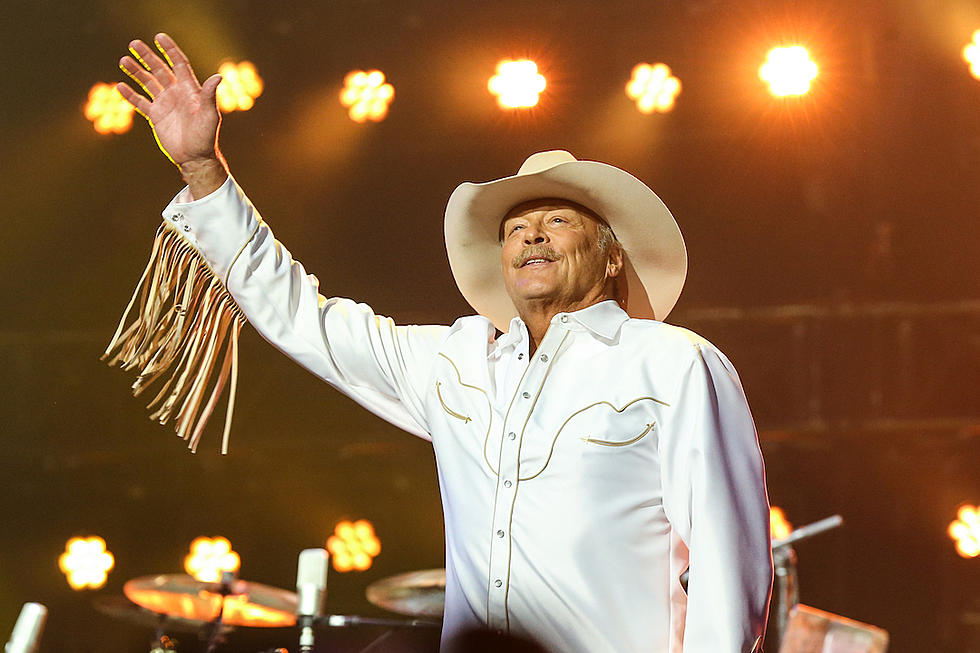 Alan Jackson Welcomes New Son-in-Law: 'Denise and I Are So Happy'
Terry Wyatt, Getty Images
Alan Jackson's daughter Mattie recently got married to Connor Smith, and the country legend celebrated with a sweet post about his new family member.
"Denise and I are so happy to officially welcome Connor into our family!" Jackson writes in the caption of his post. "Wishing [Mattie Jackson] and Connor Smith a lifetime of happiness ... Livin' on Love!"
The entire Jackson clan is dressed in their wedding finery in a family portrait, seen here, with the singer and his wife Denise standing on either side of the bride and groom. Jackson is wearing his signature white cowboy hat in the photo, along with a suit, bowtie and a white flower pinned to his lapel.
Also in the photo are Jackson's two other daughters, Ali and Dani, wearing matching blue-and-white floral bridesmaid gowns. Denise Jackson wears a subtly matched light-blue dress with a floral pattern along one side.
Stealing the show in the photo is Jackson's infant grandson, named Jackson Alvie Bradshaw. Little Jackson is the first child of Ali and her husband Sam Bradshaw, and he was born last December.
Mattie was previously married to Ben Selecman, who died in 2018 after he suffered a head injury in West Palm Beach, Fla. Mattie has detailed that experience of grief and loss in her book, Lemons on Friday.
She got engaged to Smith last September. Following the wedding, she shared a few snapshots from the ceremony, which was later followed by a wedding day montage of images.
"Losing it a little over this sneak peek," Mattie wrote, sharing a montage of photos of the venue, wedding rings and behind-the-scenes moments from the ceremony.
PICTURES: See Inside Alan Jackson's Jaw-Dropping Florida Beach Mansion
Alan Jackson's ultra-high-end taste in property even extends to his vacation homes. The singer and his wife built a spectacular 6-bedroom, 6.5-bathroom, 9,800-square-foot oceanside mansion on Jupiter Island in Florida that's one of the most jaw-dropping celebrity vacation homes of them all.
PICTURES: See Inside Alan Jackson's Spectacular Hilltop Estate
After selling their spectacular Southern manor home in 2010, Alan Jackson and his wife moved to to what might be an even more impressive mansion, if that's even possible. Their 5-bedroom, 8-bathroom, 22,012-square-foot estate in the same Nashville suburb of Franklin features bedrooms that are all well-appointed suites, while the formal dining and living areas are finished off with splendid arched doorways, oversized windows and elaborate woodwork. The residence also includes a bar, a media room and multiple indoor and outdoor fireplaces. It sold for $19 million in March of 2021.